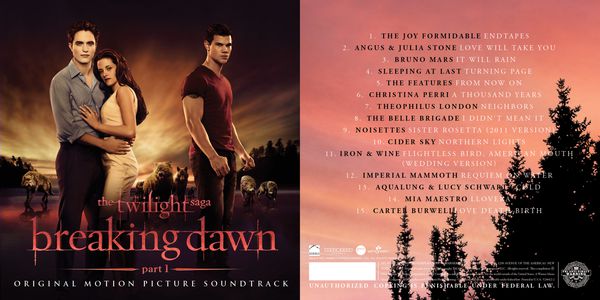 They finally revealed the list of artists participating in the much awaited soundtrack, i think they chose a different variaty of singers, with different styles which is amazing, i didnt know most of them, which is the same think as the other soundtracks, they picked excellent artists and they ended up perfect for the movie and making a huge success, i am sure they did the right choice, the list includes my favorite music makers & singers, which is a good sign: Christina Perri, Bruno Mars, Iron & Wine, Carter Burwell.............i think it will be a fantastic soundtrack, which will add a lot to the movie..............i'm looking forward to hear it!
to see the full size of this photo go to this link:
"The Twilight Saga: Breaking Dawn"
let me know what do you thins of it!...............waiting for your comments.!!
Good Luck!